Soms lees ik de weekrapportage van het rivm. Ik denk er altijd het mijne van dus ik probeer het te vermijden. Vandaag zag ik Gommers op de voorpagina van het AD en ik werd toch weer nieuwsgierig dus las ik de angsttijdingen van een paar dagen geleden. Ik begon met een FB-postje als reactie maar het wordt al gauw te lang en ik wil het toch kwijt. En dan te bedenken dat dit alleen nog maar over de kop en de inleidende paragraaf gaat. Close Reading, zullen we dan maar zeggen.
Al 6 weken op rij daalt het geschat aantal besmettelijke mensen in Nederland. Zie de rivm-grafiek: volgens hen lag de piek op 14 oktober. (Dat is trouwens gek omdat je de groei van 'rivm-besmettingen' pas rond 20 oktober zag afplatten, dat weet ik nog want dat goede nieuws beschreef ik toen here. Dit terzijde.)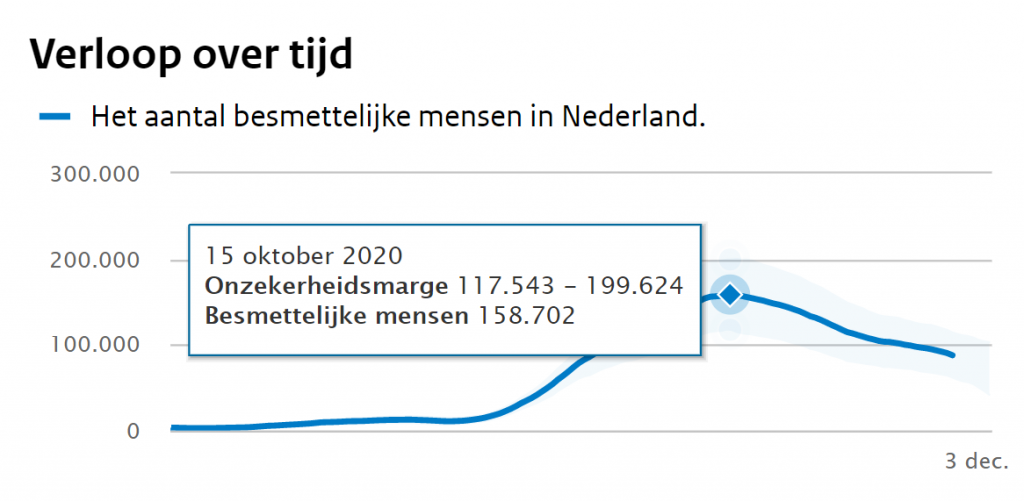 Absoluut een relatief zorgwekkende R0 van 1
Enfin, terug naar het bericht van deze week: "Zorgwekkende stijging aantal meldingen COVID-19" kopt RIVM desondanks. Al weken (maanden) wordt er moord en brand geschreeuwd. Zo ook weer deze week. Meldingen zijn killing, je zou zeggen, stop daar dan mee.
Dan volgt, in de volgende paragraaf:
"Het percentage mensen met een positieve testuitslag is gestegen naar 11,6%. In de week ervoor was dat 11,1%."
Van 11,1 naar 11,6 is een stijging van 4,5%. Of dat zorgelijk is voor medio december wordt verder niet uitgelegd. Geen context, geen referentie, zoals altijd. Nietszeggende cijfers, geframed met angstwekkende woorden.
RIVM: "Afgelopen week zijn er 27% meer nieuwe meldingen van COVID-19 besmettingen gerapporteerd dan een week eerder."
Dus 27% meer besmettingen terwijl er maar 4,5% meer positieve testen waren. Die besmettingen moeten dan zijn vastgesteld zonder te testen, dat kan niet anders.
rivm: "Het reproductiegetal ligt nog steeds ongeveer op 1."
Ik moet kennelijk waarde hechten aan een R-getal dat aangeeft dat elke 'patiënt' slechts 1 besmetting veroorzaakt, terwijl het aantal besmettingen wel zorgwekkend stijgt. Een stijging van 11,1% naar 11,6% is 26%.

Sla mij maar lek.
En zulke mensen vertellen mij dat ik iets moet laten inspuiten?
Prikangst is mij vreemd. Zo wordt het in de media genoemd als je geen vertrouwen hebt in dit vaccin: "prikangst", iets voor kinderen of dommeriken. Nu heb ik absoluut geen prikangst; ik injecteer mijzelf regelmatig en ben daarvoor erg dankbaar. Sterker nog: ik was altijd fervent pro-vaxxer, maar op deze manier maken ze het zelfs mij tegen. Ik vertrouw die knoeiers eigenlijk niet meer. En dat straalt af op vaccinaties in het algemeen.
Ze doen kortom met deze communicatie erg slecht werk in het kader van de volksgezondheid.
Nu herken ik de opzettelijke spraakverwarring heus wel: het rivm husselt absolute met percentuele getallen, net zoals ze de begrippen 'besmettingen', 'meldingen' en 'positieve testen' over één kam scheren.
Het is tegenstrijdige, benedenmaatse en vooral tendentieuze communicatie. Vaccinatie zál en móet verantwoord worden, daar lijkt het op. Hun tunneltje heeft maar één uitgang.
Intussen zitten we met gas dat eigenlijk op de grond moet vallen, ongezonde mondkapjes, afstandsregels die falen in de meest risicovolle omgevingen en een test die niet test wat we willen weten. En dat in een geïnvalideerde economie en gedesocialiseerde samenleving, afgetopt met een mysterieus vaccin dat inbreuk gaat maken op lichamelijke integriteit. Overgoten met een databrei die nog jaren analysewerk op gaat leveren, wil daar ooit nog een keer betekenisvolle informatie van worden gemaakt.
Inspiratie zat, ik vermaak mij wel. Maar die arme jeugd…
Wat je de jeugd nu afpakt zullen ze nooit meer inhalen
Het besproken bericht vind je hier: https://www.rivm.nl/nieuws/zorgwekkende-stijging-aantal-meldingen-covid-19