That Australia hasn't had Covid makes it an interesting case. Without an epidemic and with controlled lockdowns, there would never have been any problems with care capacity. Long-Covid also cannot be an explanation for excess mortality. Wilson Sy, an analyst with 62 publications, posted a Excess mortality analysis at Researchgate (25 pages) that are in another article was discussed. Below is my version.
In the Netherlands, studies have been started that have to do with excess mortality. ZonMW, which approves or rejects the research proposals, is a VWS branch that has its task developed knowledge in the field of healthcare apply and stimulate research. The studies approved by ZonMW do not include studies that could be critical of possible own or other medical failures. Medical malpractice is not mentioned as a possible dominant cause of excess mortality (think of vaccinations and measures). The main lightning rods are a) long-covid, b) delayed care and c) aftermath of (undetected) Covid – an idea suggested by Singapore. There, too, they struggled with unexplained excess mortality after vaccination without having had a severe Covid epidemic.
In the first part of the study, Sy shows based on data from The Australian Bureau of Statistics (ABS) that there has been no Covid in Australia in 2020. What has happened to Covid mortality in that period is numerically not very relevant and can largely be attributed to false positive PCR tests. The minimal corona impact is also reflected on Ourwordlindata. Care capacity was no problem at all, hospital visits continued neatly by appointment.
After that, things get interesting. It is important to refer to the Bradford Hill criteria, which test the probability of causality in statistical correlation.
Correlation can become (almost) causality with the Bradford Hill test
There is a methodology to find causality in a correlation. For this, the correlation must be tested against a number of criteria. There is debate about how hard that causality actually becomes and whether there are no exceptions to be found, but it is agreed that this 'checklist' is a valuable guideline. If all these criteria are met, there must be solid evidence to the contrary. It is referred to a number of times. The enthusiast can open the bar below for more information.
The Bradford Hill criteria
Strength (effect size): A small association does not mean that there is no causal effect, although the larger the association, the more likely it is to be causal.

Correlatiecoëfficiënt van >75%

Consistence (reproducibility): Consistent findings observed by different individuals in different places with different samples reinforce the likelihood of an effect.
Observable at different times in most countries
Specificity: Causality is likely if there is a very specific population at a specific site and disease without any other probable explanation. The more specific an association between a factor and an effect is, the greater the chance of a causal relationship. [1]
There are no other candidates (in Australia) for the excess mortality, certainly not for the younger population.
Temporality: The effect must occur after the cause (and if there is an expected delay between the cause and the expected effect, then the effect must occur after that delay).
His observations signal temporality. (Model Steigstra even reconstructs excess mortality on the basis of temporality.) In Australia, a 5-month delay is noticeable, just as we noted here.
Biological gradient (dose-response relationship): Greater exposure should generally lead to a greater incidence of the effect. However, in some cases, the mere presence of the factor can trigger the effect. In other cases, an inverse ratio is observed: greater exposure leads to a lower incidence. [1]
Number of doses determines the observed effects
Plausibility: A plausible mechanism between cause and effect is useful (but Hill noted that knowledge of the mechanism is limited by current knowledge).
So far, immunological, cardio-vascular and neurological effects of spike protein have been demonstrated. Multiple plausible mechanisms.
Cohesion: Coherence between epidemiological and laboratory findings increases the likelihood of an effect. However, Hill noted that "the lack of such [laboratory] evidence cannot negate the epidemiological effect on associations".
Clinical trials do not contradict the long-term effects. Laboratory evidence is in line with the alarm signals from hotlines.
Experiment: "Occasionally it is possible to rely on experimental evidence".
Autopsies show causes of death from vaccinations
Analogy: The use of analogies or similarities between the observed association and other associations.
In the Netherlands: Swine Flu (passed by itself), previous misses with vaccinations
And candidate criterion: Reversibility: If the cause is removed, the short-term effect should also disappear.
The spikes in excess mortality have disappeared since no more campaigns are launched
These criteria are a work in progress. Adjustments have been proposed by a.o. Ioannidis and Shimonovich.
The iatrogenic epidemic from 2021 to 2023
Australian excess mortality only became significant in 2021, as it did in our case with "unexplained excess mortality". Significant excess mortality was strongly correlated (+74%) with COVID-19 mass injections five months earlier. Strength of the correlation, consistency, specificity, temporality and dose-response relationship are the main criteria of Bradford Hill that the data meet to suggest the iatrogenesis (caused by medical intervention) of the Australian epidemic, with the excess mortality largely caused by COVID-19 injections.
Figure 1: these are the last seven years. Each segment on the x-axis represents a year. The last segment before the red line is the year 2020. In that year, there were fewer deaths than in the previous five years, so in Australia there was no "pandemic" in 2020. The red line shows the sharp rise in the mortality rate – after the introduction of the Covid injections. So that's something to take a closer look at.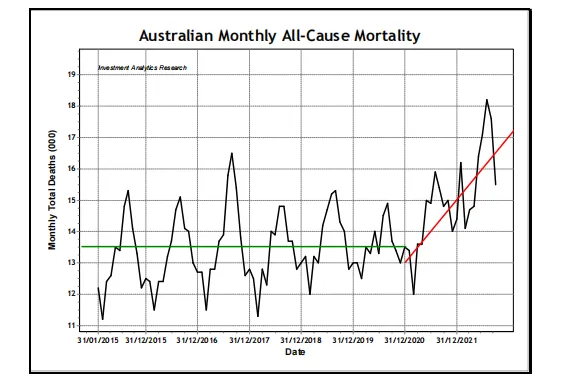 Before Covid appeared, there was a pandemic preparedness plan advising against lockdowns, masks and travel restrictions, advocating open borders but protecting vulnerable people. The logic was clear. Let the virus spread as quickly as possible among young and healthy people to achieve global herd immunity. A proven success story throughout evolution.
But this time, other forces intervened. The overly wrong modelling of Imperial College London caused panic and fear of overloading our hospitals. All preparedness plans, the thoughtful work of generations of scientists, were abandoned overnight. The rest is history.
After a year of draconian lockdowns and other restrictions, supported by military 5th generation psych-on warfare against their own people (see Robert W Malone MD, MS and Maajid Nawaz for detailed evidence), the new mRNA vaccines were the only state-sanctioned responses to the disproportionate threat of a Covid virus.
From March 2021 to September 2022, a period of one and a half years, more than 60 million doses of an unknown substance with very little data on efficiency and safety were injected into the arms of more than 20 million Australians. After that, about 60,000 more people died than expected. That's about 2,000 a month, an average of 24,000 a year. That is more than 20 times as much as the annual traffic victims. By comparison, Australia lost 34,000 soldiers during World War II. (Source) The injections doubled that total.
What matters is: how else does Wilson Sy 'prove' that this mass death is caused by the injections? He already showed a 74% correlation between injection and death. This is the strongest criterion. Regarding the "Consistency criteria" over time, he provides Figure 10 below, Total Doses vs Excess Mortality adjusted by 5 months lead time.
The correlation is clearly visible. He also calculates a correlation of 31% when comparing other countries. It happens all over the world. The red line in this graph has shifted to the left for about 5 months.
It is striking that the same five-month delay can also be seen in the Dutch excess mortality figures.
And if we are more sophisticated and we include both short- and possibly long-term effects, we can even simulate/prognotate the unexplained excess mortality fairly well. See the work of Herman Steigstra.
Specificity
Another useful criterion of Bradford Hill causality is "specificity", which is related to whether there are competing causes for excess mortality, with similar association strengths.
Correlation, even if consistent over time and in other countries, does not prove that there is primarily one cause. It becomes more specific by looking at the youngest age group. There are fewer possible confounding factors because the natural mortality there is very low. Despite the smaller number of additional deaths for the youngest age groups, the statistical signal is also present there.
In layman's terms: the elderly die from many causes. Young people hardly die and from very few causes. They also very rarely die from Covid itself, undermining speculation about Covid as a reason for an increased mortality rate.
Erratum – figures cannot be reproduced
The text below sounded very convincing. Maurice de Hond pointed out to me that these figures are not in line with the historical data that we can download ourselves. Unfortunately, I hadn't looked that far when editing the article.
The text below does not seem to be correct, the percentages are considerably lower. Unverifiable numbers bolded:
"What is statistically very significant is that mortality in the youngest group of 0-44 years in 2022 is approximately 160% is above historical expectations, while fluctuations for all age groups before 2022 are normally less than 20%.
The excess mortality for this age group in 2022 was consistently around 400 per month in Australia, meaning that in 2022 for each month "23-Sigma" cases occurred. This is an unprecedented statistical probability. It metaphorically means an earthquake of 9.5 on the Richter scale for epidemiology.
What other causes, aside from mass COVID shots, could meet Bradford Hill's basic criteria for Huge increase in deaths among 44-year-olds...?"
Coherence and plausibility
As for Bradford Hill's coherence and plausibility, the suggestion of iatrogenic origin of excess deaths after five months after COVID injections does not contradict any "vaccine safety" research. The clinical trials conducted were much shorter than five months, usually 11 weeks. In this sense, the suggested iatrogenic cause is coherent and does not conflict with known facts.
Are there plausible biological mechanisms that can explain the causal effect of COVID-19 injections on the excessive mortality of young and healthy people? Over the past three years, a deluge of research has been published on how the spike protein, either from the supposed SARS-CoV-2 virus infection or generated by the mRNA injections, could lead to inflammation in various organs that cause death. See This earlier article on this site.
Striking in Figure 1 is the seasonality, which could indicate immunological problems. For example, in a recently published clinical study of the mRNA injections observed that the production of neutralizing IgG3 antibodies against the spike protein switched over time to the production of non-neutralizing IgG4 antibodies. Is that related? Cardiovascular and neurological damage can also be expressed months later. Further research into the possible link with excess mortality should be the top priority.
Experiment and analogy
For starters, the author points out that medical experiments in Australia were discouraged from jeopardizing "vaccine readiness," even if there was every reason to do so. Also, postmortem examinations and autopsies were certainly not encouraged.
For example, Australian doctors have been threatened with amounts of up to $20,000 for the use of serological tests to verify the results of the PCR tests for the diagnosis of COVID-19 (source). Nevertheless, the scientific need is strong enough to have led to several post-mortem studies to discover the "smoking gun" evidence of spike proteins from COVID injections.
This is followed by a detailed, very specific discussion of the properties and behavior of spike proteins and related research. I refer to page 20 of the original PDF.
As an example of analogy, he refers to the swine flu pandemic:
An analogy with the current COVID-19 pandemic is the "swine flu" pandemic of 2009 due to the H1N1 flu virus. Then, as now, the pandemic was not based on facts, but on expectations of a highly contagious and highly deadly disease predicted by Oxford's computer models. The main difference is that the "pandemic" of 2009 could never be transformed into an iatrogenic pandemic and quickly died out on its own and eventually amounted to a weaker form of the seasonal flu. The episode had more cases worldwide, but fewer deaths (about 18,000) and a much lower mortality rate than the seasonal flu (source). According to a definition of excess mortality, the 2009 "swine flu" season was not a pandemic.
Conclusion
Based on mortality data, the Australian COVID-19 pandemic only began with the arrival of massive mRNA injections in 2021. It is ironic that mass injections, which were introduced to mitigate a non-existent pandemic, have caused a real iatrogenic pandemic. This study, including the Bradford Hill analysis, showed that injections administered to reduce pandemic mortality had the opposite effect, namely an increase in mortality.
The alarming excess mortality revealed by the data implies that the ratio of mortality risk to the benefits of COVID injections is very high, in a negative sense. That is, the damage or realized risk far outweighs the benefit of the COVID injections.